Physical Education at UCHSK aims to enable students to live healthy lives. Year 7 students' progress through units with the focus on the basic skills of throwing, catching, striking and kicking. In Year 8 the basic skills are reinforced within specific sports along with game tactics and sportsmanship. During Year 9 our students continue to build on sport-specific skills. They also organise and run sporting competitions rotating through the roles of administrator, referee, scorer, player, coach, captain, manager and player. Our Year 10 students continue with their skill development through involvement in a variety of sporting competitions. They are also exposed to many community-based programs and organisations to encourage a continued active lifestyle.
Theory health units include Growth and Development, Health Lifestyle Choices, Drug Education and Peer Relationships. Personal fitness is a consistent priority throughout all year groups with one lesson a fortnight dedicated entirely to improving an individual's fitness level.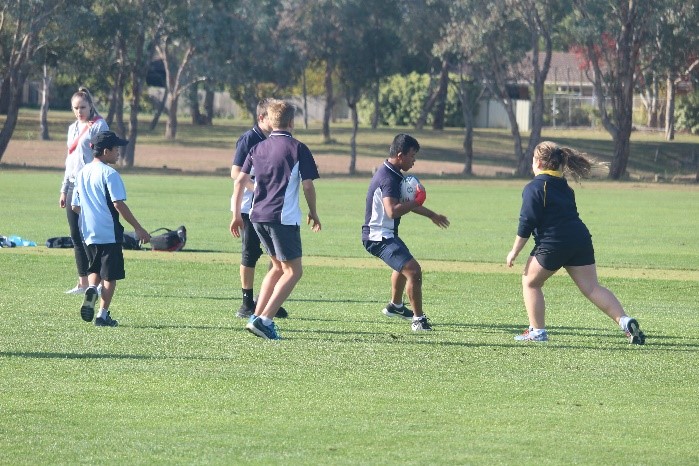 School Sport
UCHSK is involved in a wide variety of sports both within the school and external competitions.
A large percentage of our students love being active during recess and lunch time and as a school we encourage this by creating structured opportunities during the breaks. Organised competitions occur consistently throughout the week and the gym area is available for certain year groups at certain times. We also have a strong culture of staff vs. student activities and games which generate strong interpersonal relationships and community.
Here at the school we hold the traditional sporting carnivals of Swimming, Cross Country and Athletics. These days are specifically designed to cater for the needs of all our students. Each carnival has a strong competitive focus which transitions into a greater emphasis on participation, socialising and enjoyment. Overall the days are all about building our community and ensuring growth and development through being active.
Our school is committed to offering competitive inter-school sporting opportunities for as many students as possible. We offer the full sporting calendar to our students but the actual teams that we enter are dictated by student interest and staff availability. We ensure that all teams that go out to represent the school are prepared through rigorous training and meet our high expectations around conduct, application and attitude.
Sports Coaching
Sports Coaching is a Year 9/10 elective in which students learn a comprehensive range of skills. Students have the opportunity to learn coaching principles and study how the body works, performs and reacts to different situations in theory and practice. Both practical and theoretical components will be assessed.
Semester 1 – Unit 1: The role of the coach, planning and reviewing coaching sessions, managing risk, the importance of inclusivity, effective communication
Semester 2 – Unit 2: Anatomy and physiology, types of training, energy systems, sports injuries, sports injury management
Semester 3 – Unit 3: Sport psychology, drugs in sport, sports nutrition
Semester 4 – Unit 4: Olympic Games, Winter Olympic Games, Commonwealth Games, Paralympic Games
Outdoor Recreation
Outdoor Recreation is a rewarding subject where students get the opportunity to experience outdoor activities. Each student is expected to participate in all activities to the best of their ability. Although most of the course is practical based, students also learn theoretical and environmental aspects of each pursuit. The course will involve excursions and multi day camps which will incur a cost.
Students get the opportunity to participate in a range of experiences such as orienteering, surfing, stand up paddle boarding (SUP), canoeing/kayaking, archery, golf, bushwalking, mountain biking, rock climbing, abseiling, senior first aid and a variety of team activities. These pursuits help to build resilience, leadership and create lifelong memories for participants.